Floyd Malloy



Affiliation:

V.E.N.O.M.

Occupation:

Forgery Artist
Biker Gang Leader

Skills:

Motorcycle Driving, Expertise in Forgery

Voiced by:

First Appearance:

The Spectre of Captain Kidd (Episode 45)

Appearances:

11

Vehicles:

Masks:

Buckshot (Vampire)
New Buckshot (Vandal)
Floyd Malloy a.k.a The Birdman, is a former biker gang leader turned into a V.E.N.O.M. agent and also a forgery expert.
He's an undirectly rival to fellow V.E.N.O.M agent, Sly Rax; both are expert motorcycle reckless driver altought Malloy does not seem to overthrow Miles Mayhem as V.E.N.O.M leader, thing that Sly Rax in secret tries.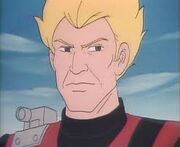 Activities with V.E.N.O.M.
Edit
Episode Appearances
Edit
45-The Spectre of Captain Kidd
51-Dragonfire
52-The Royal Cape Caper
53-Patchwork Puzzle
55-Plunder of Glowworm Grotto
61-Treasure of the Nazca Plain
67-Where Eagles Dare
69-The Battle of the Giants
72-For One Shining Moment
74-The Battle for Baja
75-Cliffhanger
Action Figures
Edit
Packed with Buckshot Mask and Vampire
Packed with New Buckshot Mask and Vandal
Behind the Scenes
Edit
Miles Mayhem was voiced by Brendan McKane.
Ad blocker interference detected!
Wikia is a free-to-use site that makes money from advertising. We have a modified experience for viewers using ad blockers

Wikia is not accessible if you've made further modifications. Remove the custom ad blocker rule(s) and the page will load as expected.