Gloria Baker



Affiliation:

M.A.S.K.

Occupation:

Race Car Driver
Sensei

Skills:

Racing Champion
Kung-Fu Black Belt

Voiced by:

First Appearance:

The Star Chariot (Episode 02)

Appearances:

31

Vehicles:

Shark (Season 1)
Gator (co-pilot) (Season 1)
Stiletto (Split Seconds)

Masks:

Aura (Shark)
New Collider (Stiletto)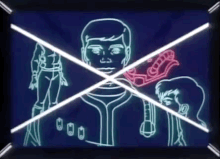 Gloria Baker is an agent of M.A.S.K.. Her vehicle is a Porsche 928 (Codename:Shark) that transformes into a submarine and a Lamborghini Countach (Codename: Stiletto) that transformes into a glider/helicopter. She is also the co-pilot of Gator, driven by Dusty Hayes. She is a champion race car driver with a black belt in Kung-Fu.
Activities with M.A.S.K.
Edit
Gloria Baker appeared in 31 episodes, debuting in Episode 2, "The Star Chariot". She has appeared in more episodes than most M.A.S.K. characters, behind Matt Trakker (70), Bruce Sato (40), and Alex Sector (37). She is the only M.A.S.K team female character.
Aura: Creates an energy absorbing shield.
Collider: Creates magnetic fields.
Personality
Edit
"Aura, on!"
"Hi Scott, Hi T-Bob. Did your father allow you to go on a mission?" (Dinosaur Boy)
"Sounds like good company for VENOM." (Dinosaur Boy)
"No, but for a moment there, i'd thought i'd spend the rest of my life married to Shark!" (Ghost Bomb)
Episode Appearances
Edit
02-The Star Chariot
04-Highway to Terror
05-Video VENOM
06-Dinosaur Boy
07-The Ultimate Weapon
09-The OZ Effect
10-Death From the Sky
11-The Magma Mole
12-Solaria Park
14-Assault on Liberty
18-Bad Vibrations
19-Ghost Bomb
23-Vanishing Point
24-Counter-Clockwise Caper
28-Blackout
29-A Matter of Gravity
30-The Lost Riches of Rio
33-Caesar's Sword
35-In Dutch
36-The Lippizaner Mystery
38-Curse of Solomon Gorge
40-Eyes of the Skull
41-Stop Motion
42-The Artemis Enigma
51-Dragonfire
55-Plunder of Glowworm Grotto
57-Incident in Istanbul
58-The Creeping Desert
60-Venice Menace
64-The Manakara Giant
66-Demolition Duel to Death (not in action)
Action Figure
Edit
Packed with New Collider Mask and Stiletto
Behind the Scenes
Edit
Gloria Baker was voiced by Sharon Noble.