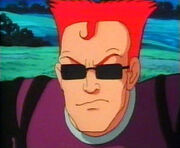 Lester Sludge is the last member of V.E.N.O.M..
Activities with VENOM
Edit
Episode Appearances
Edit
66-Demolition Duel To The Death
67-Where Eagles Dare
68-Homeward Bound
72-For One Shining Moment
74-The Battle For Baja
75-Cliff Hanger
Behind the Scenes
Edit
Lester Sludge was voiced by Brian George.
Action Figures
Edit
Action figure with Mudslinger mask packaged with Iguana (1986)
Ad blocker interference detected!
Wikia is a free-to-use site that makes money from advertising. We have a modified experience for viewers using ad blockers

Wikia is not accessible if you've made further modifications. Remove the custom ad blocker rule(s) and the page will load as expected.