Rhino



Affiliation:

M.A.S.K.

Conventional Mode:

Tractor Rig

Action Mode:

Mobile Defense Unit

Operator:

Bruce Sato
Matt Trakker (ocassionally)
Alex Sector (as systems operator and co-driver)

First Appearance:

The Deathstone (Episode 01)

Appearances:

50
Rhino is M.A.S.K. powerhouse vehicle often driven by Bruce Sato (and in sever ocassions by Matt Trakker and/or Alex Sector). Alex it's also Rhino's Systems Operator.
It transforms from a Maroon Kenworth W900 Tractor Rig to a mobile defense unit.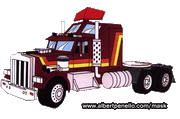 Ad blocker interference detected!
Wikia is a free-to-use site that makes money from advertising. We have a modified experience for viewers using ad blockers

Wikia is not accessible if you've made further modifications. Remove the custom ad blocker rule(s) and the page will load as expected.